***POSTPONED TO 2022***
Sisters in Harmony Summer Retreat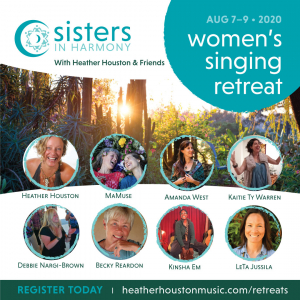 A women's singing retreat at the stunning Om Oasis Retreat Center in the Santa Cruz Mountains
Please join Heather, MaMuse, Becky Reardon, Debbie Nargi-Brown, Amanda West and Kaitie Ty Warren for a nourishing weekend of singing in the Santa Cruz Mountains.
Immerse yourself in sacred sisterhood, song, yoga, qi gong, meditation, ritual, nature, saltwater pool, hot tubs, and saunas. We'll be singing together in one big group the entire weekend! Fill your cup with songs that open your heart and uplift your spirit!
Food – Organic, locally sourced, vegetarian, gluten-free meals.
Lodging – Camping, yurts, cabins, and tree houses are available. Private beds in shared rooms and cabins.
If you would like to camp, and are flying in, we have plenty of gear to share! Just plese let us know in advance.
Transportation –  It's easy to take shuttles and Ubers from the airport.
Schedule – (Subject to change)
Friday:
1:00 – Arrival, Settle in, Free Time
5:00 – Welcome Circle
6:15 – Dinner
7:30 – 9:30 – Evening Singing Session
Saturday:
7:15 – 8:15 – Yoga or Qi Gong
8:30 – Breakfast
10:00 – 12:30 – Morning Singing Session
12:30 – Lunch and Free Time
3:00 – 5:45 – Afternoon Singing Session
5:45 – 6:15 – Silent Time
6:15 – Dinner
7:30 – 10:00 – Evening Round Robin (participants invited to share / teach songs)
Sunday:
7:15 – 8:15 – Yoga or Qi Gong
8:30 – Breakfast
10:00 – 12:30 – Closing Circle
12:30 – Lunch
Goodbyes
————
Amanda West
Amanda is an award-winning singer, songwriter, song-circle leader, music teacher and mother. She is co-founder of Womb Song, U.S., an organization that supports women into motherhood through music. She understands music to be a part of our human birthright, playing an essential role in our experience of being alive, and has found her life-path and greatest joy through sharing music with others.
Becky Reardon
Becky Reardon's voice is familiar to the millions of people who heard her sing on the Charlie Brown TV specials. She is a singer, composer, guitarist, performer, and musical collaborator who co-founded the trios "Natural Rhythms" and "Shepherd Moon". Her rounds and songs are sung by university and community choirs, and song circles all across the US, Canada and British Isles. She travels widely to perform and lead singing workshops and retreats. At present she is
working on a musical about a women's song circle.
Debbie Nargi-Brown
For over 3 decades, Debbie Nargi-Brown has been leading dancing and singing in Santa Cruz and beyond; teaching African Inspired dance classes, leading Community Sings as well as facilitating retreats and workshops. She writes songs for the heart, for healing, for transformation, for love, for grief and all those things that connects us as human beings. Bringing people together in dance and song is one of her greatest sources of joy!
Heather Houston
Heather is passionate about uplifting hearts, freeing voices, and transforming lives through the power of singing! She spreads her magic through her 40 voice strong women's choir Yala Lati, her 20+years of international song circle leading, and her on-line programs – The Art of Mindful Singing and Sisters in Harmony Song Leader Training.  Heather also leads regular Sisters in Harmony circles at Breath+Oneness in Capitola, annual Women's Spirit Song retreats at Skyote Mountain in Scotts Valley, and is one of the featured song circle leaders at the annual Singing on the Edge at the Esalen Institute, Song Village in the Santa Cruz Mountains, and SongFest in Los Angeles. Heather's 2016 ZMR top ten album Prayers for the Water is featured on the International World Water Day Summit with Depak Chopra, and she just released her second solo album, Sisters of the Moon, featuring her choir of angels, Yala Lati.
Kaitie Ty Warren
Kaitie Ty Warren is working to restore harmony in community. She is passionate about waking people up to the joyful potential in their bodies and voices in a playful, connective way. Kaitie leads the Living Room Choir in El Cerrito, teaches group speech classes for people with Parkinson's, and offers private lessons for all-things-voice. She also performs, composes, writes and records. She is a member of the Ubuntu Choirs Network, an international group that believes it's everybody's birthright to sing.
Kinsha Em
Kinsha brings immense care and consciousness in her role as a percussionist.  Her listening ability and support for any artist she accompanies is one to behold and cherish.  She is spontaneous yet supportive, fun and quite calm.  Relax into her 11 years of drum accompaniment.  She's an intimate treat amongst many in our beloved Santa Cruz Community.
LeTa Jussila
Dr. LeTa is a Certified Qi Gong Instructor for the past 15 years and has studied under various masters in the U.S. and in China. Qi Gong literally means "Energy Cultivation Practice" in Chinese. It sees your thoughts, emotions and the physical body as an integrated energy source that can be mastered and cultivated. Dr. LeTa will lead you in different Qi Gong practices to help you have a a deeper connection to your own internal energetic experience and start your day off in flow state. LeTa is a Doctor of Acupuncture and Oriental Medicine and national wellness expert.
MaMuse
Wholeheartedly fed by the folk and gospel traditions, MaMuse (Sarah Nutting and Karisha Longaker) create uplifting music to inspire the world into thriving. Interweaving brilliant and haunting harmony with lyrics born of honed emotional intelligence, MaMuse invokes a musical presence that inspires the opening of the heart.