Laura Sera is passionately committed to the healing and transformative power of song — it has beautifully awakened and expanded her life and her greatest wish is for it to awaken and expand your life, too!
Laura has been leading women's singing circles in Santa Cruz for several years, and has been a guest song leader at Heather Houston's Sisters in Harmony events. She's a section leader in Heather's choir Yala Lati, and she's the Teaching Assistant in Heather's Sisters in Harmony Song Leader Training.
She has an MFA in creative writing and a BA in documentary film, and is deeply experienced in holding safe space for others to explore their voices and discover the true agency they have within their own narrative unfolding.
With Laura you will feel deeply heard, safely held, and always welcome, exactly as you are.
Laura's singing circles are deeply nourishing for my soul, and uplifting for my spirit! I'm able to show up as I am, in raw tenderness or in joy, and find myself held in sisterhood, my voice welcomed and brought to life by the circle of community and care that you create. Thank you from my heart! — Caraway S.
Receive Updates About Laura's Events
About Voices of the Heart: 6-Week Series
Open your voice and expand your creativity!
Who would you be, if you let go of all doubt and opened your voice and your creativity to their fullest expression? Do you long to be in community, and to uncover the truths of your own heart? Through song and vocal meditation we'll drop into presence with our precious selves, entering a sacred space from which we'll engage in simple writing exercises that illuminate the hidden beauty within our lives. You may receive answers to questions you've long held close, or you may receive a poem or a song, or perhaps a story or a drawing.
We'll have lots of fun!
We'll sing songs that bring us together in delicious harmony, uplift us, and set us free!
When we come together to hold each other in creative space, remarkable gifts manifest — your gifts, that are meant to be shared with the world! If this entices you, come! If this scares you, come! Lean in! By the end of our time together, you'll have created lasting friendships and a work of art!
No prior singing or writing experience required! All voices are welcome! This is a deeply safe and supportive environment.
We meet on Mondays from 6:30-8 p.m., outdoors on the Westside of Santa Cruz.
Get in touch! [email protected]
♡
About Voices of the Heart: Monthly Drop-In
A sacred circle of sisterhood and song!
Flowing through this world as women, we consciously and unconsciously caretake all those around us and we resist tending to ourselves. Sisters, join me in stepping out of this unceasing stream of responsibility and into the steady current of your tranquil heart. You will be cared for deeply by our circle and by the intimate presence of your own voice. Together we will dive into the joy and tenderness of self-care through song, vocal meditation, gentle movement, and loving connection. Together we will heal our hearts.
Come sing, laugh, play, and pray together!
We sing and chant in easy to follow call-and-repeat style. No prior singing experience required, all voices are welcome!
We meet one Saturday afternoon each month, outdoors on the Westside of Santa Cruz.
Get in touch! [email protected]
♡
Upcoming Events:
♡
Click here

to join Laura's mailing list and receive updates about her song circles and more!
"Singing with Laura is like a meditation of sorts… I leave feeling euphoric, centered, and full of gratitude and connection. Thank you Laura!"
"This was one of the best virtual circles I've ever attended!! Amazing Laura Claire Sera!!!!!!"
"After Laura's singing circles, I feel deeply connected to others, to our planet, and to myself."
"Your intuition for choosing songs is wonderful. The lyrics of each one are always exactly what I needed to hear."
"You have the medicine, I feel the healing going out to all our sisters."
Laura's Music:
I write a variety of songs to share in my circles, from simple chants to multi-part harmonies and layers.
Click through to follow me on SoundCloud, where you can find more info about my songs, including lyrics.
Yala Lati Women's Choir performs Garnet and Gold
Singing With Laura: Testimonials
Laura leading at Heather Houston's Sisters in Harmony Retreat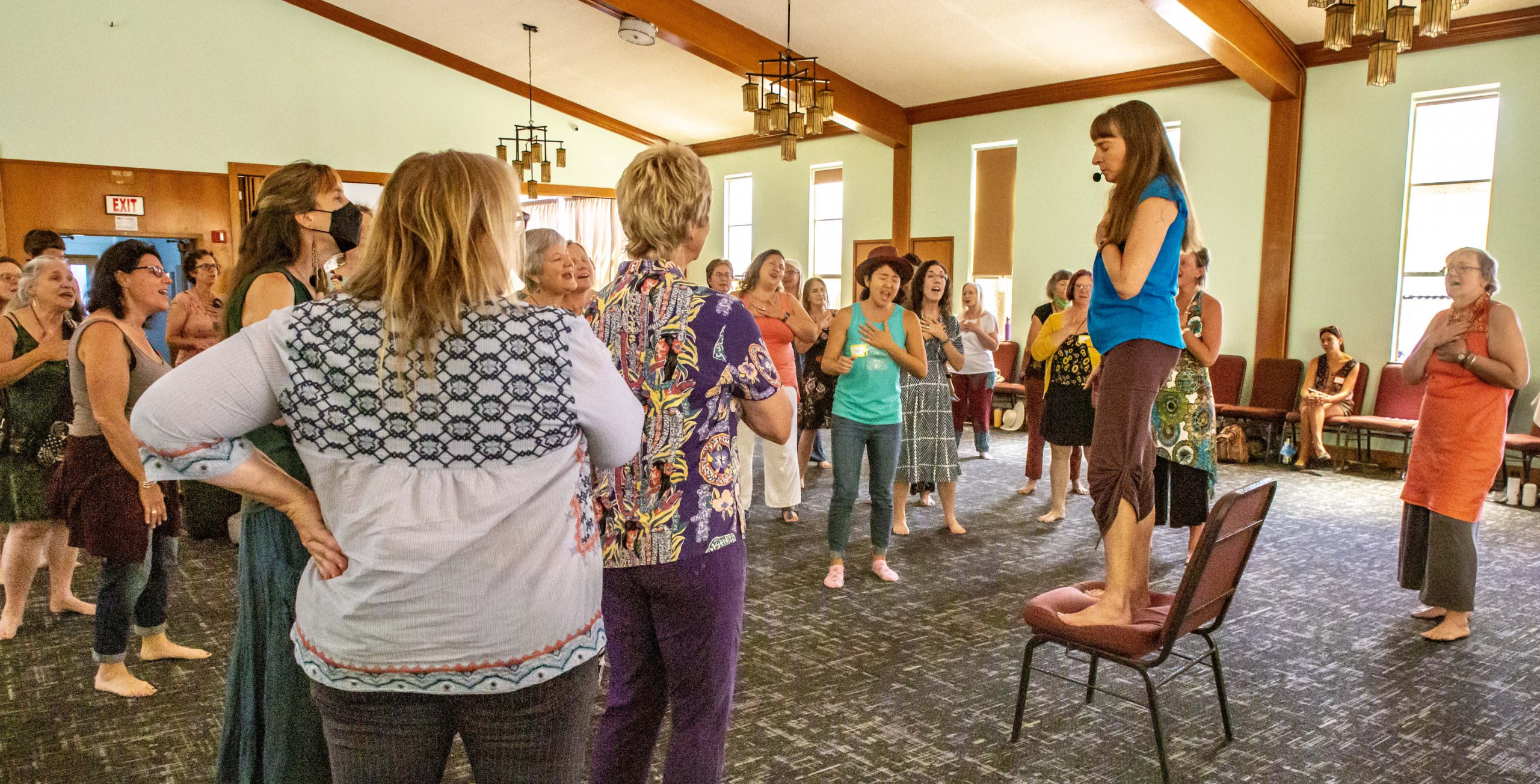 Photos of Laura credit: Sharon McCarthy
Natural Bridges photo credit: Scott Davenport